Brazilian Firebird Developers Day site is now online
The 16th Firebird Developers Day will be held on August 3, 2019, in Piracicaba – SP – Brazil. This is the biggest Firebird conference in the world, in terms of number of attendees. If you speak Portuguese, take a look at the conference site and register!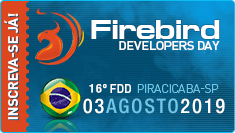 O 16º Firebird Developers Day acontecerá no dia 3 de Agosto de 2019, em Piracicaba – SP. Essa é a maior conferência sobre bancos de dados Firebird, em número de participantes. Visite o site do evento para ter todas as informações e fazer sua inscrição!